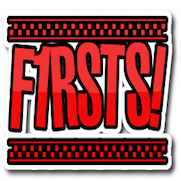 For our August edition, we are joined by Frances, who drove 500 miles just to take in our podcast (well, so she says). She draws "First Live Sports Event" and "First Time Drinking Legally"  We get into tales of our first sports event, which for Chad & Frances involve drunk people. We learn about inflation on Packer ticket prices, Frances hangs around a tough crowd at her game, and Mike gets sent out to "deeeeep left field".   Frances draws "First One Night Stand" and immediatey defers, along with Mike.  Begrudgingly, Chad agrees and Frances then draws "First Time Drinking Legally".  We learn how Frances hung out with "Hip Young Nuns" at her school; Mikes tales of loves lost in France; and Chad tells us what a police stakeout really is!   
Firsts! Co-Hosted by Mike Eserkaln and Chad Nehring, with a live audience and audience volunteer guest at the Green Room in DePere.  We draw from our "Machine of Random Firsts" and discuss the topics generated.  Join us (generally) the first Saturday of each month, 11PM (or so) at the Green Room in DePere, Wisconsin for our live broadcast of "Firsts!"  Vist our new location at 365 Main Ave.
Note that this episode contains adult language.
Special thanks to Kevin MacLeod for the bumper music