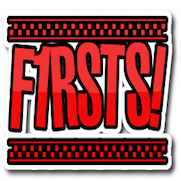 For our October edition we record during the Green Bay Improv Festival, and are joined by two veteran improv comedians, Tim Stoltenberg & Linda Taylor-Williams!  Tim pulls "First Time Disobeying Parents" and we learn about why yo-yos don't fit in VCR's.  Mike flips the bird to his mom, Linda gets caught in a lie about margaritas, and tells us why white velcro pants are the coolest!  Linda draws "First Drink" and we all share tales of our first time with "The Demon Rum"...Chad celebrates a wedding with Southern Comfort...and a smoke detector; Tim explains what pull tabs are, and yes, Boone's Farm makes an appearance! 
Firsts! Co-Hosted by Mike Eserkaln and Chad Nehring, with a live audience and audience volunteer guest at the Green Room in DePere.  We draw from our "Machine of Random Firsts" and discuss the topics generated.  Join us (generally) the first Saturday of each month, 11PM (or so) at the Green Room in DePere, Wisconsin for our live broadcast of "Firsts!"  Vist our new location at 365 Main Ave.
Note that this episode contains adult language.
Special thanks to Kevin MacLeod for the bumper music